Business Analyst for Photanol
What do you do?
We are looking for a proactive, innovative and analytical Business Analyst to join the biotech revolution at the scale-up Photanol. Together with the CFO, you will help grow this unique and potentially world-changing business into becoming fully operational and scaleable. In this position you support and help grow the business by providing data driven insights & analysis.

On the one hand you will have a strategic impact on the business by supporting business cases and capex investments with financial modelling, identifying opportunities and risks by doing market and competitor research & analyses. Whilst you are also involved in setting up investment memoranda / pitch decks to support the funding rounds & grant applications.

On the other hand you will manage, further set up and where possible automate the monthly management reporting pack, including an in depth analytical review. Expanding the current reporting pack and making the transition towards customized dashboarding, using BI tooling such as a PowerBI or Tableau. Next to the monthly management reporting you will also be managing the quarterly reporting towards shareholders, partner and grant providers such as the Netherlands Enterprise Agency and the European Regional Development Fund of the EU. Each shareholder, partner and/or grant provider can have a different set of reporting requirements, which you will not only establish in the reporting structure, but also in the interface with Exact Online & Yoobi so that this can be automated for the largest part. Because of the small size of the finance team you will also be involved in the financial sanity check during the month end close, reviewing the work of your colleague and the external accounting firm which handles the annual reporting, tax & payroll.
Good to know...
Photanol is in a very exciting phase, the science has been proven – having a research plant in Amsterdam and a demo plant in Delfzijl. As the business analyst you will have numerous way to contribute. Not only helping to translate the strategy into operational- and financial plans & KPI structure, supporting decisions with strong financial models and argumentation but also contributing to securing the funding and grant needed to become scalable. Under the mentorship of the CFO, you will get exposure to a very broad scope of finance topics.
Who are you?
You are an ambitious, data driven financial who loves to work in a fast growing, innovative and ground breaking sustainable environment. You actively drive continuous improvement and are extremely action minded. You see transforming raw data into actionable business insights as a puzzle, and won't give up until you solved it!

"We need somebody with the right mentality and skillset. Who is able to take ownership over topics, even though it might be something you never encountered before; you figure it out. Someone who is precise, sets the bar high and is able to deliver on what they promise. But is also able to be agile, setting your own priorities and follow through. Who can see the big picture, through different cross sections, reaches sound conclusions and actionable recommendations. And who, as a person, can get the point across. Somebody with huge levels of intellectual & strategic curiosity and the capacity to think out of the box. And who is passionate about sustainable innovation, just like the rest of us."


Master degree in Finance, Economics or Accountancy

Minimum of 1-3 years of progressive experience as an Analyst, within Audit or Financial Advisory (TS); preferably in an international equity backed environment

(Strong) knowledge of Excel, ERP and reporting (PowerBI) tools

Excellent communication skills in English, Dutch is an advantage

Solid finance background; able to understand the core financial processes, do the financial sanity check and build mature, scalable processes

Analytical, eager to know what drives the figures and what the business impact is;

Natural storyteller & able to build and maintain relations on different levels both internally and externally

Ambition, initiative, discipline, drive for results and customer focus
More about Photanol
Welcome to the biotech revolution. Photanol BV is a spin-off company founded in March 2008 by UvA Ventures Holding together with the Swammerdam Institute for Life Sciences, Prof. Klaas Hellingwerf and Prof. Joost Teixeira de Mattos. Photanol produces chemicals based on the renewable source of CO2. With patented, photosynthesizing cyanobacteria, carbon dioxide (CO2) is converted by sunlight into valuable chemical products. This process uses only solar energy and CO2, produces no waste and is very efficient.

Petro-chemicals mean mining more fossil fuel, emitting more carbon. They're also resource, land and time thirsty - the kind of industry that has led to a planet out of balance. The Photanol solution helps reset that balance. They can create any carbon compound. Which means we can make the monomers used for different plastics, the ingredients for personal care products and detergents; even fuels - clean, renewable and circular. All thanks to innovation that follows nature's lead.

Photanol works with the superpower of cyanobacteria to photosynthesize. Optimizing the bacteria to absorb more CO2, adapting its metabolic pathways to produce a desired chemical. Transforming the bacteria into highly-efficient mini factories that run on sunlight, produce just oxygen as by-product and need radically less land and water than traditional variants. All primed for scalability thanks to Photanol's platform technology.They are changing the world from their hub in Amsterdam, in their cool office at the Science Park.

There is a lot to tell, but it's even easier to show, look at the following links:
Pitch TEDxAmsterdam Award 2017 Photanol
https://www.youtube.com/watch?v=WRUamRuG-IU
Connecting Boundless Minds at Amsterdam Science Park – Veronique de Bruijn (CEO)
https://www.youtube.com/watch?v=JeYubh2iPWU
Photanol at World Economic Forum
https://www.youtube.com/watch?v=HEXha_7reI8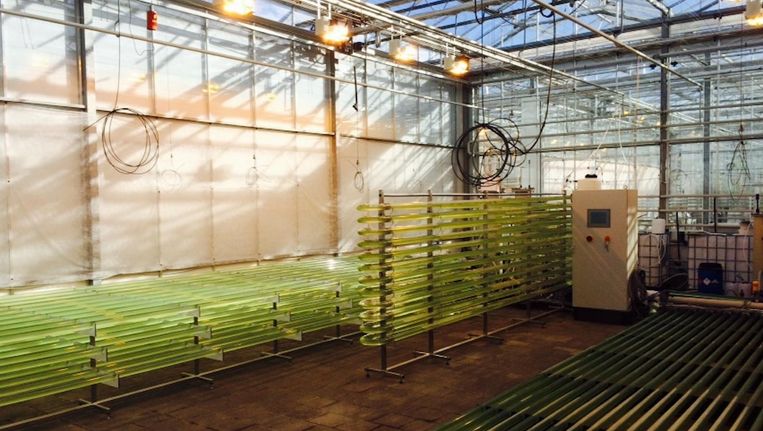 Publish date
19.05.2021
Contact